WARNING: This page contains spoilers for Zanki Zero: Last Beginning. Proceed at your own risk.
---

Zanki Zero features additional content for players who have save data for games from the Danganronpa series on the same console as their Zanki Zero save data.
Monokuma Enemy
[
]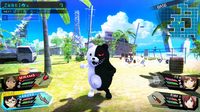 If the player has save data for Danganronpa 1.2 Reload, Danganronpa Another Episode: Ultra Despair Girls or Danganronpa V3: Killing Harmony on their PS Vita or PS4, Monokuma monsters will appear at random on Trash Island. Having save data for more than one of the games increases the probability of Monokuma appearing. Additionally, Danganronpa posters can be found throughout the game that increase the probability further. Defeating Monokumas grants a high amount of EXP and score, as well as powerful weapon and armor item drops.
Danganronpa Posters
[
]
The following maps and information was originally gathered by Zanki Zero Walkthrough Wiki.
Saruyama Treehouse Village

(Lodging)

[

]
Mashiro Metro Plaza

(Basement Floor 1)

[

]
Cruise Ship Belle Moi

(Cabin Deck)

[

]
Koromo Hot-Spring Village

(Northwest Gate)

[

]
Kayou Academy

(Main Building 3rd Floor)

[

]
Hirasaka Memorial Hospital

(4th Floor)

[

]
Mashiro Nanotechnology Research Institute

(Research Area Level 1)

[

]